Our cost-effective outdoor blinds extends the use of your patio or braai area to both summer and winter. The blinds provide protection against the outdoor elements – blocking out the sun in summer and keeping the rain and cold out during winter.
We custom-make the outdoor blinds to every customer's individual requirement to suit their needs. Each outdoor blind is seamed and double stitched for strength and durability. We offer a variety of optional extras, including:
Weather strips to close gaps underneath blinds
Inlays to interconnect outdoor blinds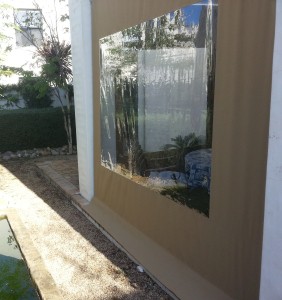 When the outdoor blinds are in use, the double-strength PVC windows allow excellent visibility. When the blind is rolled down, it is secured using stainless steel snap-hook anchors into the ground or wall. It is fully retractable using either a crank and gearbox system or a rope and pulley system. We can also install motorised systems on request.
Outdoor blinds are also available in a guiding track system that uses steel channels to make it stronger in windy conditions.
Outdoor Blinds Ripstop Colour Range
Ripstop canvas fabric is a durable woven fabric that uses a special reinforcing technique that makes it resistant to tearing and ripping. Ripstop is perfect for the harsh climate conditions of South Africa, being water, mildew and UV resistant.
Acrylic Colour Range (Acrylic Fabric)
We also use Acrylic Fabric for the Outdoor Blinds, which is a 100% Solution Dyed Acrylic Fabric. It is water resistant and provides maximum protection against UV Radiation (more than 90%). Acrylic Fabric come in a wide variety of colours and below is our most popular selection.
We offer two products from Sunworker – Sunworker Open and Sunworker Crystal. Sunworker Open is a solar-protective fabric that combines transparency, resistance combined with visual and thermal comfort. Sunworker Crystal is a specialised fabric and consists of Sunworker fabric bonded to a thin sheet of PVC. It contains all the benefits of the Sunworker Open, but is also water resistant.
Other products to consider: Shade Blinds